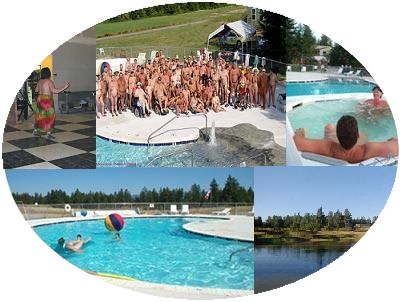 Sun Meadow Resort is a beautiful nudist resort for families, couples, and singles in the sunny Idaho panhandle near Coeur d'Alene Lake ( 45 minutes from Coeur d'Alene, Id; 35 minutes from Spokane Valley, Wa.: 60 minutes from Moscow, id also close to western Montana and southern Canada). Easily accessible by paved roads, we are a great year-round destination resort for nude recreation in the Northwest.
With frequent events, spacious grounds with a variety of facilities, and lots of great places nearby to visit, Sun Meadow is a destination resort. It's a great place for recreation, relaxing and making new friends.
We are affiliated with the American Association for Nude Recreation (AANR), AANR Northwest (AANR-NW) and the Naturist Society (TNS). Sun Meadow Resort and northern Idaho are great places to take a vacation or live. We hope that you will visit soon.